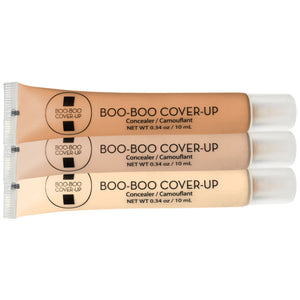 Boo-Boo Cover-Up - All 3 Shades
Sale price Price $ 50.00 Regular price
"we love"
One product we love that combines medication and makeup, which contains soothing aloe, tea tree oil which disinfects the area, and green tea to take out the redness. - Cosmopolitan
Press
What ingredients help heal skin?
Boo-Boo Cover-Up contains aloe vera, vitamin e, chamomile, green tea and tea tree oil.
Science Says
It doesn't crease or fade throughout the day, it's not cakey, it's not greasy, it conceals. I like this concealer, so far it gets an A+ from me!
This one matches my skin color to the t, like they say and I am enjoying including it in my makeup application routine and getting more comfortable playing around with it (because it actually matches my skin color!! and that's a relief)... yaaay!!
This one is a favorite and we can't wait to share it with you! Boo-Boo Cover-Up is a new concealer for the body and face that's packed with good stuff and actually works!
I've tried so many. I can finally stop looking!